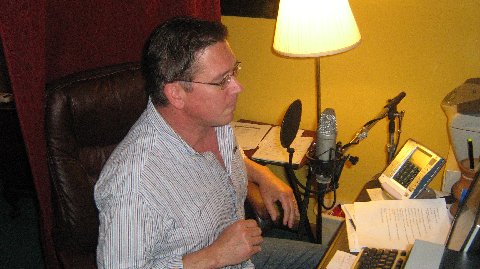 As a voice actor with 25 years professional experience, Ron specializes in over 200 celebrity impressions, from toys to corporate training. He's an especially warm and friendly person and it shows in his narrations. The demo's here say it all.
Featured Corporate Narration Demo
Professional Experience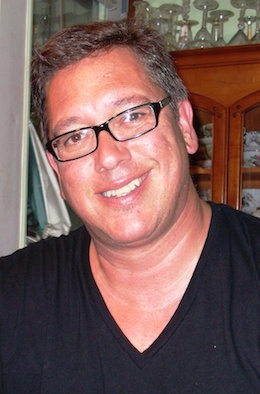 They say you 'can't be all things', but in the last 20 years, Ron has come close! He does both young and old voices for radio and TV spots, creates new characters, animal sounds, numerous regional dialects, announcers, and more... Ron is industry approved for sound-alike voices: Will Smith (MIB II), Mike Myers (Shrek), Hasbro & Fisher Price's Star Wars toys (Qui-gon, Watto, Yoda, and Darth Sidious). Ron is also a Narrator/Trainer voice for Sun Solutions, BMW, Corning, K-Mart, Johnson & Johnson and more. He's the voice behind McGraw Hill's 'Education Story Teller' lesson series. Ron recently co-wrote & performed all voices for "The Governator & The First Family of California" comedy CD, available on CD Baby and iTunes.
Training
Ron started out as a child doing impersonations, following Rich Little and other pros. He worked with 'The Underground Improv Group' in Richmond, VA. followed by morning radio comedy at WVBF Boston and WHJY - WWBB - WSNE Providence in the 80's. This led to free-lance voice-over and copy writing in the CT, RI, & MA Markets.
Additional Skills
Being a top celebrity impressionist has enabled Ron to become a versatile voice actor & writer sensitive to his clients needs. He's a devoted father and husband who's put off fame for balance. His creativity, warmth, and sense of humor make him both a valuable asset and a joy to work with.
Voice Sheet
Announcers/Spokespersons:
Mary Albert, Tom Brokaw, Casey Casem, Howard Cosell, Walter Cronkite, Paul Harvery, Dana Hersey, Jeffrey Holder, Wolfman Jack, Keith Jackson, Robin Leach, Ed McMahon, Johnny Most, Charlie O' Donnell, Gary Owens, Don Pardo, Andy Rooney, Rod Serling
TV Personalities/Movie Actors:
Bing Crosby, Chef Tell, Dr. Ruth, Ed Sullivan, Frank Perdue, Jacques Cousteau, Joe C/ Green Grocer, Julia Child, Lawrence Welk, Mr. T, Pee Wee Herman, Ringo Starr, Roger Miller, Sgt. Joe Friday, Tom Snyder, Truman Capote, Alfred Hitchcock, Arnold Schwarzenegger, Forest Gump, Jim Carrey, Boris Karloff, Burt Lancaster, Crazy Googanheim, Carol Channing, Cary Grant, Clint Eastwood, Eric Roberts, George C. Scott, Humphrey Bogart, Jack Nicholson, John Houseman, John Wayne, Jimmy Stewart, Kirk Douglas, Marlon Brando, Maurice Chevalier, Paul Lynn, Richard Burton, Rod Steiger, Roger Moore, Ted Knight, Tony Curtis, Vincent Price, W.C. Fields, Rush Limbaugh, Liam Neeson, James Earl Jones, Michael Caine, Sean Connery, Keanu Reeves, Will Smith
Local Announcers:
Emeril Lagasse, John from Alperts, Art Lake
Sound Effects:
Animals, Horns
Characters/TV Shows:
Alf, Barney, Batman & Robin, Archie & Edith, Simon Cowell, Church Lady, Fernando, Good Sex!, Hogans Heroes, The Godfather, I Love Lucy, Kit--Knight Rider, Leave It To Beaver, Waynes' World, Mr. Potato Head, Jim from Taxi, Maxwell Smart, Perry Mason, Ricky Ricardo, Rocky, Vinnie Barbarino, McHales Navy, Mayberry RFD, Mr. Ed, Mr Rogers, My Three Sons, Star Trek, Welcome Back Kotter, Kramer, George Costanza, Alex Trebek, Gordon Elliott, Ty from X-Makeover
Comedians:
Jerry Seinfeld, Bill Cosby, Bill Murray, Johnny Carson, Andrew Dice Clay, Abbott & Costello, Cheech & Chong, Dan Ackroyd, David Letterman, Eddie Murphy, Foster Brooks, George Burns & Gracie, George Carlin, Jack Benny & Rochester, Red Foxx, Richard Prior, Rodney Dangerfield, Steve Martin, Phil Hartmann, John McCain
Politicians:
Barack Obama, George Bush, Ronald Reagan, Jimmy Carter, Richard Nixon, Henry Kissinger, Bill Clinton, Al Gore, Ross Perot, Bruce Sundlun, Linc Almond, Teddy Kennedy, Gerald Ford, John F. Kennedy, Hubert Humphrey
Cartoons:
Bugs Bunny, Dudley Do-Right, Sylvester, Foghorn Leghorn, The Jetsons, Kermit the Frog, Lippy & Harty, Lone Ranger, Mickey Mouse, Roger Rabbit, Snagglepuss, Yogi & Booboo, Ren & Stimpy, Elmo, Barney, Goofy
Singers:
Anthony Newley, Bing Crosby, Elvis, James Brown, Joe Cocker, Johnny Cash, Johnny Mathis, Michael Jackson, Nat King Cole, Neil Diamond
Dialects:
Irish, Italian, Jamaican, Oriental, Russian, Spanish, Southern, Indian, Mexican
Toys:
Shrek & Donkey, Yoda, Darth Vader, Transformers, GI Joe, Mr. Potato Head, Baby Barney, Video Now, Will Smith, Clue FX & more!
Athletes:
Mike Tyson, Muhammed Ali, O.J. Simpson
Red Sox Players:
Jon Papelbon, David Ortiz, Manny Ramirez & more
Ron Hayden DBA Voices Unlimited
I prefer to be contacted by Phone or Email.
Address:

155 Winter St.
Wakefield RI, 02879



Phone:

401-789-6309



Fax:

401-789-6309



Cage Code:

759S8



DUNS:

121384429



NAICS Code:

711510.SIC.7929/9906



Email: